Although location drivers vary across specific manufacturing site selection projects, they typically include a mix of location factors customized around the needs of the company. Site Selection Group, which provides site selection services for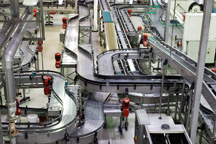 manufacturing operations, recommends developing a set of balanced criteria when choosing the location for a new manufacturing plant.
The characteristics that typically drive location decisions include workforce availability and costs, transportation and logistics, business environment, regulatory climate, utilities and infrastructure, real estate and economic incentives. Because no single location will provide the best score in each of these areas, it is important to identify the optimal mix that best suits the long-term operations for each particular client.
Ranking the most competitive states for manufacturing
As a demonstration of this type of balanced approach, Site Selection Group used its proprietary GeoCision® analysis to provide an annual ranking of all 50 states based on weighted site selection variables that measure these primary considerations. These factors are not comprehensive, but they are representative of those typically utilized in industrial projects. Those factors and weightings used for this exercise are shown in the table below. Of course, in a "live" site selection project, Site Selection Group almost always builds this type of analysis at the metro level to score and rank all 917 metropolitan and micropolitan statistical areas to identify which ones warrant an in-depth site selection review.
TO READ FULL ARTICLE CLICK HERE